The first of Aqar's two goals we've been waiting for many months. Aqara M1S, a new plug-in gate. How does it work? Is it worth changing with Aqara Hub? Time for a review!
The Aqara M1S is a direct successor Aqara Hub. Nowadays, it's hard to find a direct successor, usually manufacturers will add one / two options and take another. So that the customer does not know what to buy. Fortunately, it is easier in this case.

The appearance of the M1S - I think I've seen it somewhere before ...?
The M1S gate looks ... identical to the Aqara Hub. Of course, the EU version, because the normal Chinese version needs an adapter. We have recorded Aqara Hub unboxing especially for you. You will find it below.
M1S and Aqara Hub - what are the main differences?
The question many people ask themselves is: what is the main difference between the M1S and the still popular Aqara Hub? Fortunately, the answer is simple. The new gateway has support for 128 devices, the previous one was for 64.
Will users feel this change? I don't think so much. Support for 64 devices is easily enough for most apartments. However, if someone has a house with more than one storey, they will definitely appreciate the possibility of supporting 128 devices. We must also remember that the gate itself supports only 32 devices. If we want to "finish" up to 128 devices, we need amplifier devices, i.e. those that connect to the gate, but are powered from the socket - light bulbs, relays, sockets. Each such device will give us an additional 16 devices.
The second change is support for the new one ZigBee 3.0. ZigBee 3.0 means lower energy consumption and greater range of devices. Of course, the sensors themselves must support the new ZigBee protocol, but at the moment it is worth investing mainly in it.
The last change is a new alarm mode, known among others from gate V3. But more on that in the paragraph about the application.
As for the look - there is a new Aqara logo and changed markings on the rear. And the European plug, of course 🙂 Below is a comparison of the goals themselves:

And what they look like when we have to plug them into the socket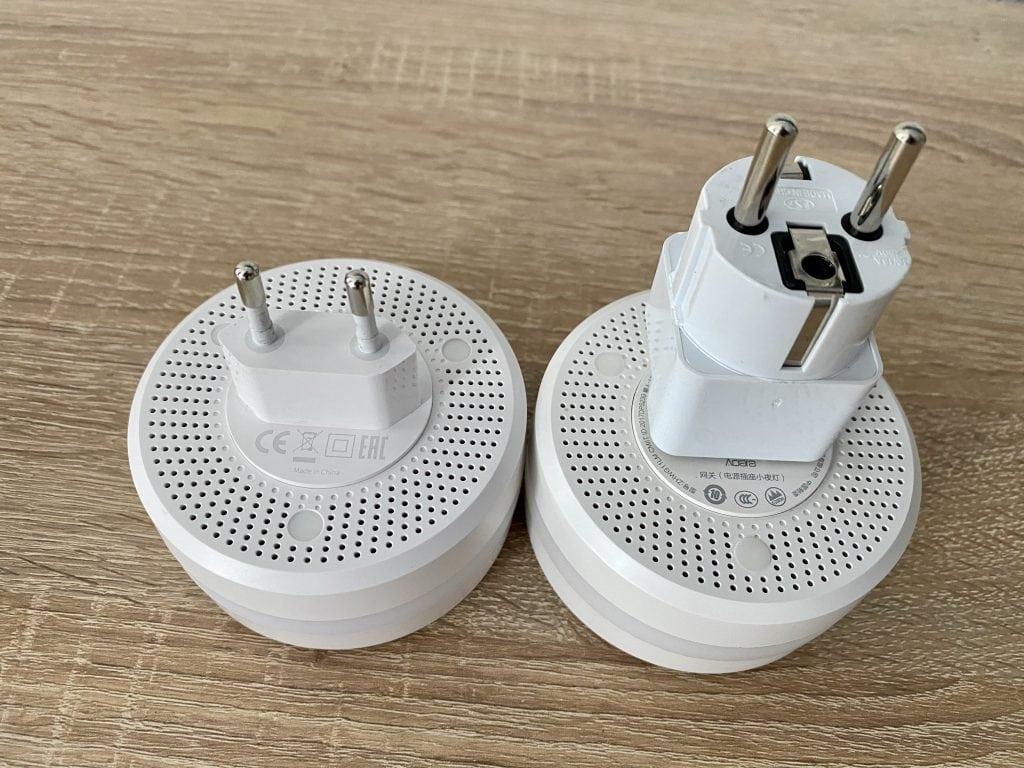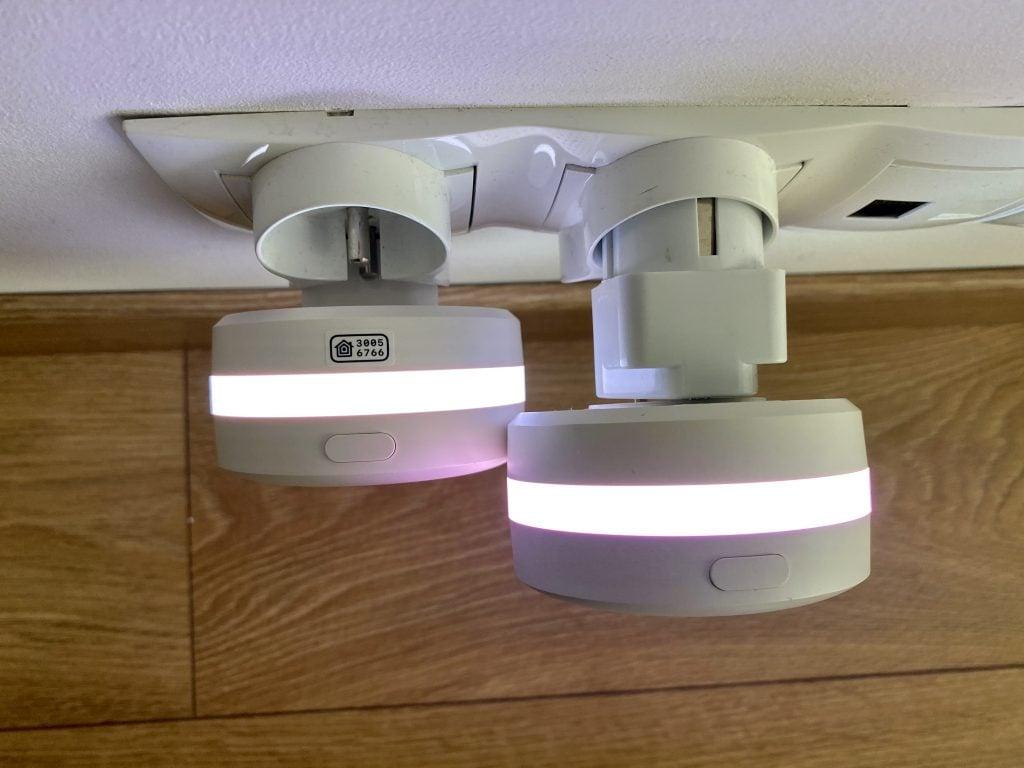 What devices does the Hub support?
The new Hub supports all devices that we may have added to the Aqara Hub, and those that will be released in the future. In order to switch the equipment from one hub to another (if you decide to replace it), unfortunately you have to change each one manually. There is no magic way, so you have to first unpair them and then pair them. And you can do it for the following list of devices:
- temperature, humidity and pressure sensor
- a motion sensor
- vibration sensor
- flood sensor
- door / window opening sensor
- Switch Aqara - to control any electrical device
- single and double wireless light switches
- bulbs
- Aqara Cube
- relay modules - Aqara Relay and T1
Applications - Mi Home and Aqara Home
The gate should be visible both in Mi Home, and Aqara Home. I say "should" because I can't find it in Mi Home. This will probably change over time and then I will update this point.
We can conveniently add the gate to Aqara Home. And here it gets interesting. In the Aqara Home application, we have a lot of options for setting our alarm and lamp. Let's start with a simpler functionality, i.e. lamps.
light
And the Aqara Home application can remotely turn on or off the lamp with the selected color. There is a full set of RGB so any color can be set. Aqara even added scenarios, that is, selected colors that should be associated with certain moods. There is a scenario of relaxation (orange), rest (a bit marine) or a movie (purple, but I have no idea why).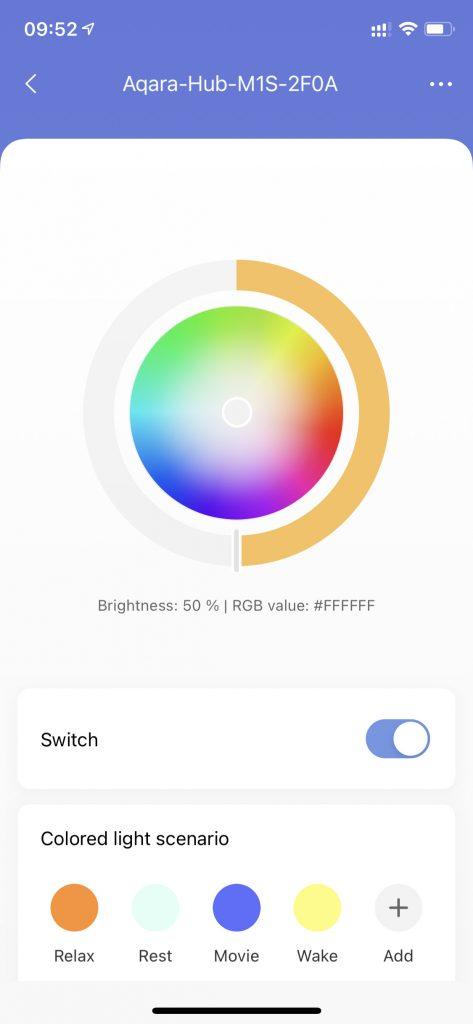 In the settings, you can set up automations and scenes in the IF / THEN style. For example: if it is 20:00 PM, then turn on the lamp and set it to light brightness. Useful if child does not want to fall asleep in a dark room.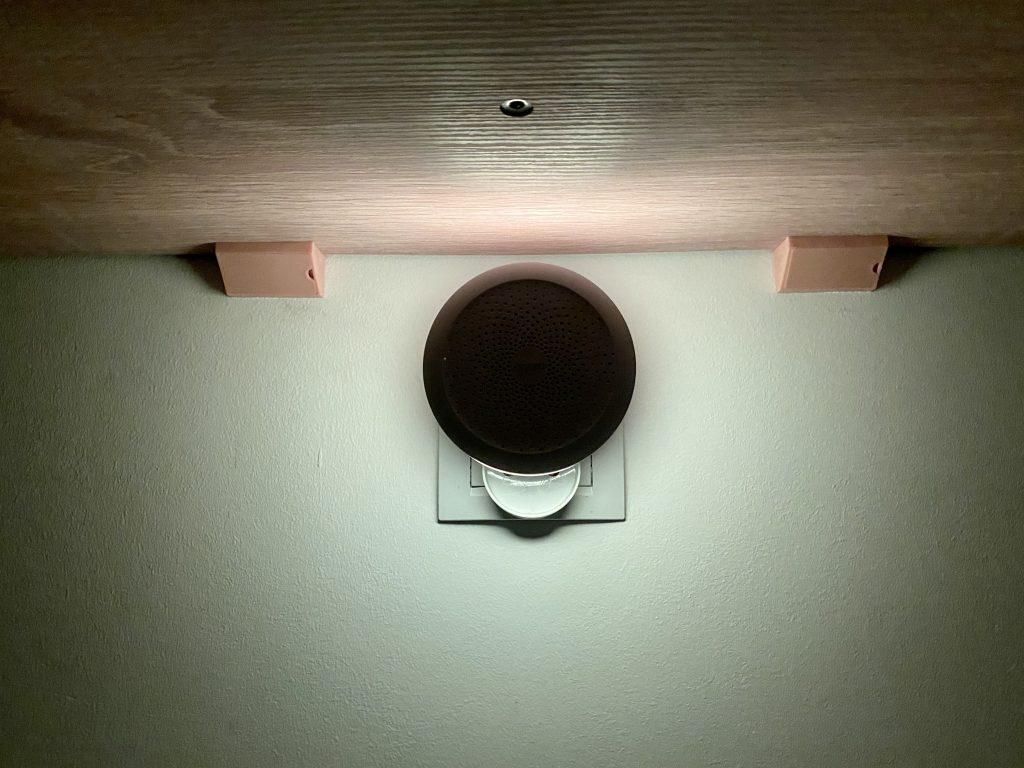 There is also an option to build entire scenes in it based on selected automations and other scenes. The simplest scene is goodnight, i.e. turning on the alarm and turning on the night light.
Alarm
The M1S gate has gained a lot of new functions in connection with the alarm. When I clicked through the different functionalities, I was surprised how much change took place. So in turn.
The main change is three modes of operation: Home, Away, and Night. These three modes appeared on the occasion of the goal Xiaomi Gateway V3. The idea is the same, i.e. the different sensors are attached to three modes. They divide like this:
At home - Here we add sensors to activate when we are at home. For example, a pantry door that should be locked 😉 It can also be a form of informing us that someone has entered the house.
Night - In addition to the sensors from the "At home" option, we can add reed switches, but still not give motion sensors. Thanks to this, we have the security of the house, but we can still move - e.g. when we go to the bathroom at night.
Outside the house - then we arm the house with all sensors. Triggering on each of them triggers an alarm.
A novelty with this option is the delay known from alarm systems. We can set the alarm to go off, but only after some time - for example after 30 seconds .. Thanks to this we can disarm the house before it starts to "howl". It is very convenient if the hub is placed close to the door. After all, it should be hidden in such a way that unwanted people would not be able to notice it immediately.
We can turn the alarm on and off automatically. This can be based on a specific time, another accessory, or automation.
HomeKit, Home Assistant, Google Home
We will start from HomeKitbecause it is the easiest with him. The gateway has native support for this system, so we can add it simply by scanning the code on it. Once paired, the gateway will appear with both alarm and light options. We can separate them or leave them connected.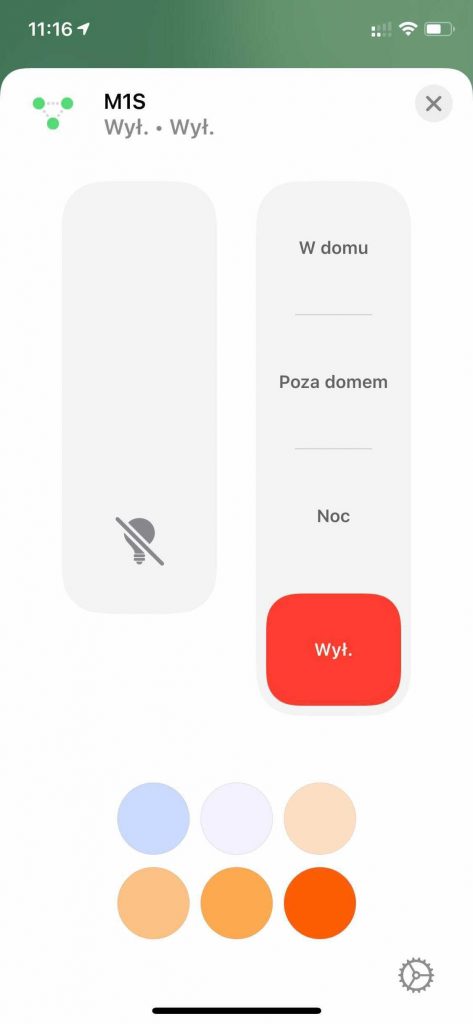 New are four alarm modes instead of the two as it was with the previous gate. We now have options:
At home.
Outside the home.
Night.
Off
We can set the modes in automations. For example at At 22:00 we start "Night". When we leave home, "Away" turns on, and when we return, "At home" is displayed. Nevertheless, this is not enough, as we cannot configure them in HomeKit. To set which devices trigger alarms, we need to schedule it in the Aqara Home application.
At the moment, M1S has no support for Home Assistant. However, I think that will change soon. As soon as I get information on how to add it, I will write about it here.
Aqara M1S has support for Google Home. We have to add it via the Aqara Europe application i Google Home both the gateway and its devices will be visible.
Everyday goal
The gate is working properly and there were no problems with it. The fact that it is the European version is definitely a plus, so it sticks out less.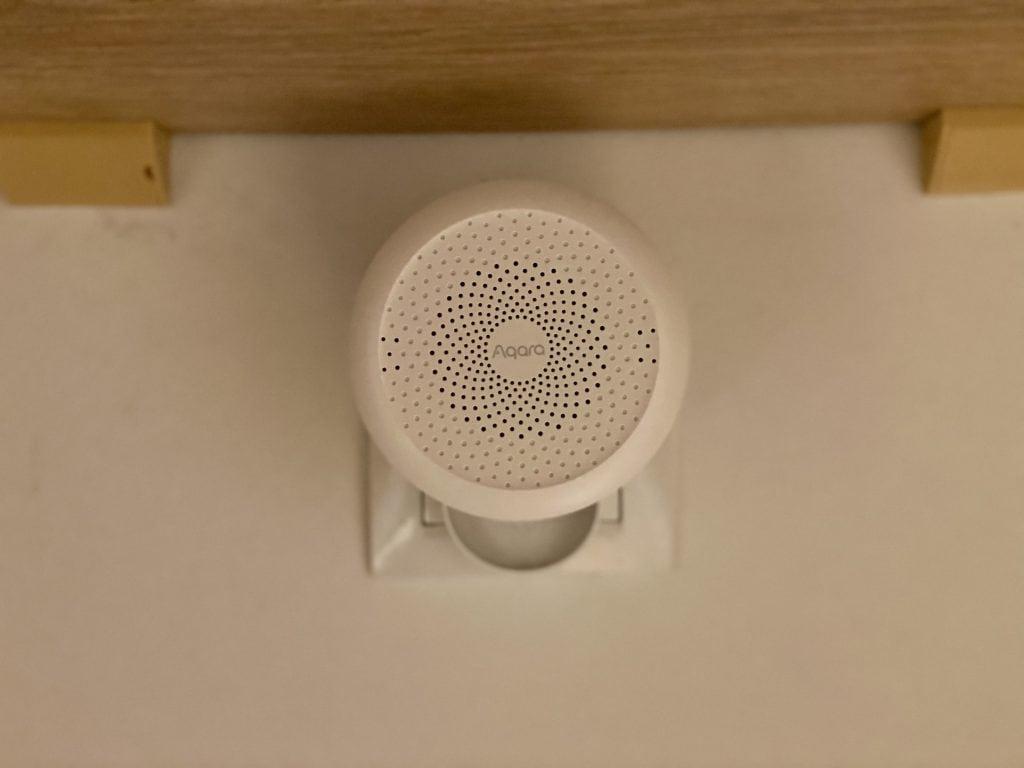 The gate works well as an alarm and light. More nightly than lighting up the whole room. It is therefore worth installing it so that it can be useful at night.
What I'm going to attach to is the siren volume. Could be louder. When the alarm goes off, you can hear it clearly in the house, but not outside. So if, for example, she was to inform a neighbor, this would not happen.
Summary of the M1S
At the time of writing the review, M1S is still in the childhood phase. And so I waited a few months, because when I got her for the first time, she had a lot of problems. Nevertheless, it is a choice with a future.
You can buy the Aqara M1S gate from the official distribution pod tym linkiem.
It is a true successor to the great forerunner, Aqara Hub. The goal is better than the previous one in all respects. We have more devices, we have newer ZigBee and more alarm configuration options. What is missing is the maturity of the solution. Problems with Mi Home, no support for Home Assistant. These problems, however, will probably disappear after some time.
So is it worth buying the M1S gate instead of Aqara Hub Eu? Yes. And is it a better choice than Xiaomi V3 and Aqara M2? This comparison is coming soon 😉